Shockwave Therapy
in Vaughan
What Is Shockwave Therapy?
Shockwave treatment involves the application of short, frequent, and high intensity bursts of mechanical energy (in the form of a shockwave) into soft-tissue that is injured, scarred, or contains adhesions, is painful, or inflamed. This energy shock is not electrical, but rather a rapid high frequency vibration in the form of a Radial Pressure Wave (RPW). When appropriately applied, shockwave can increase local blood flow, improve healing response, break apart scar tissue and adhesions, reduce muscle spasm, and directly decrease pain. Most patients tolerate the treatments well, and report only mild discomfort.
how does it work?
Shockwave therapy involves a variation of acoustic waves targeted at the given pain point or injury site to promote accelerated tissue repair and cell growth, pain relief and mobility restoration. The acoustic waves are created by pressurized air and comprised of random peaks and pressure. This energy is released at the end of the applicator and in to the tissue where scar tissue is broken down and blood flow to the area is increased.
Resulting Effects Of Acoustic Waves
New Blood Vessel Formation – Creation of micro-ruptures in tendon and bone
Reversal of Chronic Inflammation – Increase in mast cells
Stimulation of Collagen Production – Acceleration of procollagen Synthesis
Break up of Calcified Fibroblasts
Dispersion of Pain Mediator – Neurotransmitter substance P is interrupted
Release of Trigger Points – Unblocking of calcium pump promoting healthy metabolic process in microfilaments.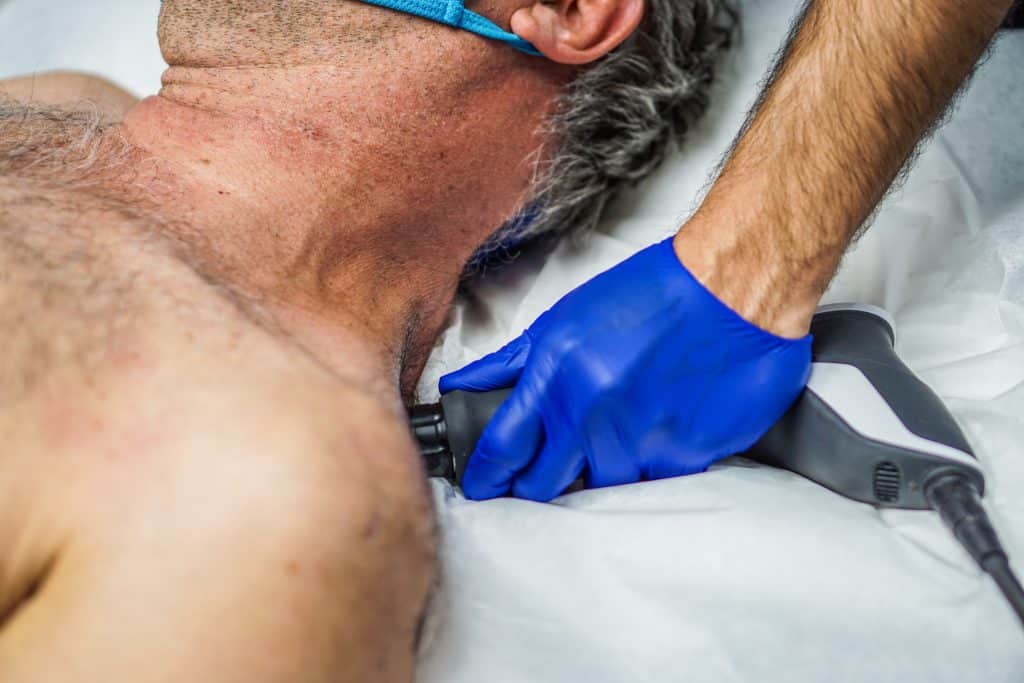 Does It Really Work?
There has been a lot of work done to show the effectiveness of Shockwave Therapy with patient satisfaction reaching 90% in various trials. Studies have shown the reduction and elimination of chronic pain, increase in range of motion and accelerated healing for a wide range of conditions.
We have many patients with a wide range of conditions who have seen the benefits of Shockwave Therapy, see what they have to say in our reviews and testimonials!
Great team, good people amazing treatment. Highly recommend My Physio.Went in to see the Physiotherapist (Kaveh) after shoulder surgery, he took his time assessing my shoulder and tailoring a treatment plan. Very knowledgeable, organized and easy to talk to.Saveria the massage therapist has been phenomenal helping me get my mobility back, working on my muscles affected by the surgery and going above and beyond treating circulation problems in my hand.Receptionist are very friendly and accommodating.If you're looking for Physiotherapist, Chiropractor, Massage Therapist this is the place to go.
Very friendly and helpful business! Saveria and Kaveh were great! They understood my issues and gave me a plan to help work with my injury. Front desk was always super friendly and accommodating. 10/10 would recommend using!
Excellent staff and Service!
I have been so pleased about my entire experience so far at My Physio. Rachel has been working with me since my ACL surgery 7 weeks ago and I'm shocked at how far I've come with her help! She is also so fun to chat with and makes the challenging exercises enjoyable!Parul also helped me with my concussion symptoms and I finally felt steady on my feet to prepare for ACL surgery. She focuses on making sure exercises progress as you do. She is also so sweet and genuine!The receptionists and management have been so helpful with bookings, dealing with claims and my insurance company, and setting up appointments to get my custom brace made and fitted.I feel confident in the care I am receiving and I truly feel like they have my best interests in mind. I don't usually write reviews, but I felt compelled to write about my experience in case it helps anyone thinking about choosing My Physio. Finding a good physio place that actually cares about getting you better instead of just giving you a heating pad and TENS is hard. Switching to My Physio was the best decision I could have made for my healing journey!
I've been coming for a year due to several different dance injuries and Rachel been very helpful in getting me back to dance. Overall a very professional and friendly clinic environment
Awesome clinic and staff. Have had many great treatments here!
Parul's guidance in pelvic physiotherapy led me to a speedy recovery by using clear, organized, concise, effective and progressive steps. Along that journey I was able to realize and reset my own health to move forward. Now I am on a better path after Parul's guidance...........many thanks Parul!
Which Conditions Are Best To Treat With Shockwave?
Shockwave Therapy has shown to be effective in tissue repair, pain relief, improvement in motor functionality and range of motion. Here are some conditions where these improvements have been shown:
Reversal of Chronic Inflammation
Plantar Fasciitis
Chronic Tendinopathy
Patellar Tendonitis (Jumper's Knee)
Achilles Tendonitis
Rotator Cuff Tendonitis
Calcific Tendonitis
Hip Pain
Medial Tibial Stress Syndrome
Heel spurs/Heel pain
Myofascial Trigger Points in muscle
Iliotibial Band Syndrome (IT Band Syndrome)
Tennis Elbow and Golfer's Elbow
Bursitis
feel free to call or email one of our therapists at the clinic to see if shock waves are right for you.