WHAT TO EXPECT ON THE FIRST VISIT
During your first visit, our lovely and helpful front desk staff will welcome you to the clinic. Our highly experienced and friendly therapist will complete an initial assessment to discover what injury you are presenting us with, and how it happened. Following a detailed history and physical assessment, we will determine a proper course of action depending on your goal. One important aspect of recovering from injury is to help educate patients on ways to prevent further aggravation of symptoms.
Treatment intervention could include:
Muscle and fascial Release Techniques
Laser
Electrical modalities (Interfential current IFC, Ultrasound)
Performance Taping
Joint mobilizations
Exercise prescription
LASER THERAPY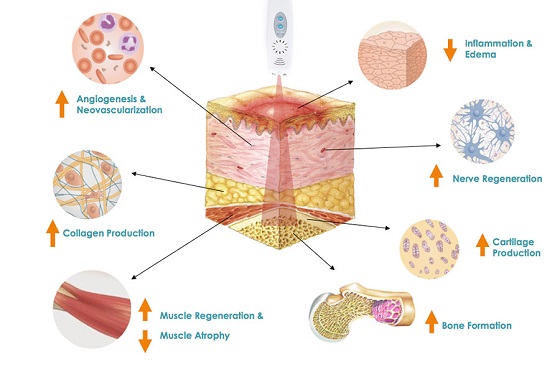 Laser therapy by patients of all age ranges and neuromuskuloskeletal conditions. It helps promote ATP (energy) to injured tissues/cells in our body, which helps promote quicker healing. It produces no heat and therefore not capable of damaging tissue in the body. Cells of our body naturally have the ability to resist over stimulation, meaning it is not possible to harm tissue by overdosing, as long as the therapeutic laser is used in the therapeutic window, and remains below the maximum permissible exposure of tissue.
What to expect during Laser Treatment:
If one of our highly trained and skilled practitioners decides that LASER therapy is a suitable treatment option for you, you will be provided a set of protective eyewear to wear during the procedure to protect you from possible light exposure. Depending on the area of treatment, the practitioner will place the laser over the area of injury for 3-5 minutes at a time, where you should not feel any discomfort or pain. The practitioner may decide to provide this treatment a couple of times to different areas to ensure all the affected tissue is addressed. No discomfort should be felt during and following this modality.
BENEFITS
Reduces Swelling
Laser quickly reduces swelling caused by bruising or inflammation of joints to provide enhanced joint mobility.
Relieves Pain
Effectively stimulates deep tissue regeneration and relieves pain and inflammation.
Accelerates Healing
Reduces scar tissue formation and helps decrease the amount of fibrotic collagen tissue formation following surgeries, injuries and trauma.
Non-invasive
The laser used for tissue relief are not strong enough to damage cells, even when used 24 hours a day, resulting in extremely safe treatment.